Aaron hopes to 'Build the Future' with technology
Date added: 09 February 2022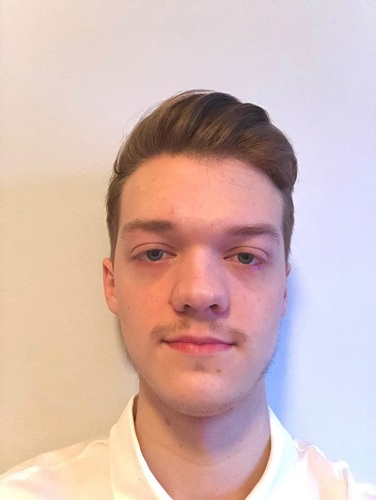 Tech-savvy Aaron is the first Software development apprentice to have navigated his way into our IT team and work alongside an innovative team of software and web developers.
Health informatics and technology, is now one of the fastest growing areas in health. Health informatics involves the intelligent use of information and technology to provide better care for patients. The number of apprenticeships now available in digital, data and technology roles have increased and developed into new and innovative areas.
Aaron completed his Level 3 certificate in Software development and is now a Junior software developer. He has been working in the Systems development team for almost two years. The team develops and builds systems and apps for internal use that help to streamline Trust processes, boost productivity for colleagues and provides better care and outcomes for patients. Aaron's role consists of writing and testing systems, creating basic websites and problem-solving to get the best solutions for applications.
Apprenticeships can help individuals to develop the skills and knowledge required for a rewarding career and for employers to develop a workforce with future ready skills.
When he left sixth form Aaron worked for a London based shipping company for some time doing data entry, which offered him some hands-on office experience. Aaron always had an interest in IT and was driven by app development and programming - even learning coding (programming language to get a computer to behave how you want it to) in his own time, but was worried that he lacked the skills and experience needed to get into software developer roles.
After being made redundant, he successfully applied for an apprenticeship with Kent and Medway NHS and Social Care Partnership Trust (KMPT). Here he talks about why he decided to do an apprenticeship with us.
"Apprenticeships are a good way of opening the door for further employment and a future career. You get the opportunity to learn and gain more knowledge whilst working in a chosen field.
"During my apprenticeship I was able to look for ways to innovate and create functional solutions using software and create web applications. I helped to develop the CliQ Checks app. This is a quality assurance system and internal clinical audit process used to help clinicians carry out quality checks on electronic caseload documentation. The app replaces hand-written patient notes."
Like many apprentices Aaron had to adapt to virtual working and learning during the coronavirus pandemic.
He adds: "I spent the 18 months of my apprenticeship working from home. At times it was difficult trying to learn new skills and not being able to have those have face-to-face conversations with colleagues that you need at times. As my apprenticeship was in a digital field and used IT and digital programmes it didn't affect My learning too much."
Aaron continues to push technology to its limits and has just been promoted to the role of Junior software developer from Trainee systems developer. He wants to continue to climb the career ladder here at KMPT and hopes to progress into a Senior developer role in the very near future.
If you are looking to do an apprenticeship take a look at what opportunities we have available here.
National Apprenticeship Week runs from 7 until 13 February 2022.