KMPT service users, carers and volunteers receive free connectivity to help tackle digital exclusion from Vodafone via a partnership with Computers4Charity
Date added: 28 February 2023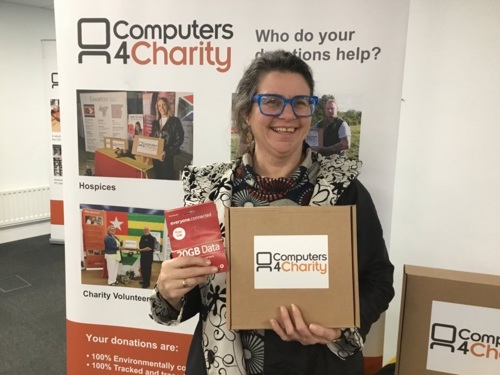 Health, Heart, Hope @KMPT has announced it will be using free connectivity via Vodafone's charities.connected initiative to tackle digital exclusion in Kent, in partnership with Computers4Charity. Computers4Charity is giving away Vodafone SIM cards with 20 GB data plus unlimited calls and texts for six months to support service users, carers, volunteers and staff across Kent and Medway, helping them get online and improve connectivity to reduce social isolation and improve mental health.
George Cook, Honorary Chief Executive at Computers 4 Charity said: "The cost of living crisis is impacting many people across the UK and this free connectivity will enable us to help our beneficiary groups to provide them with much-needed support to help us to continue tackling digital exclusion as we distribute the SIM cards with refurbished IT."
Mirelle Frost, Charity Lead at Health, Heart, Hope at Kent and Medway NHS and Social Care Partnership Trust (KMPT) said: "We recognise the huge benefits that digital technology and telephone connectivity can bring. This partnership helps tackle digital exclusion for people in need, enabling our service users to stay connected with their loved ones, carers and supporting our volunteers and staff too."
Emma Reynolds, Head of Communications, Sustainability and Regulatory Affairs at Vodafone UK said: "We are committed to tackling digital exclusion. We hope that by providing free connectivity to Computers4Charity and Health, Heart, Hope @KMPT who have such an enormous impact on their local communities, we can help create a more inclusive digital society. We urge any organisation who thinks they can benefit to apply online and look forward to hearing how this connectivity has helped."
Vodafone's charities.connected initiative is part of its commitment to tackle digital exclusion and is open to any registered charity that would benefit from free connectivity, either to improve its digital capability, extend its services or help the individuals and families it supports get online.