About us
One in four people in the UK will experience mental health issues at some point in their lives. We are passionate about support and recovery for both those affected and their loved ones.
We are commissioned to provide secondary mental health services across Kent and Medway, both in the community and within inpatient settings.
Helen Greatorex, who trained as a mental health nurse, is our chief executive. For more information on our Board, please see our Trust Board page.
Our vision and values
We are proud of our visions and values, which were developed and agreed with our staff.
Our vision
To provide brilliant care through brilliant people. 
We do this by:
Consistently delivering outstanding quality of care
Recruiting, retraining and developing the best staff, making KMPT a great place to work
Placing continuous improvement at the heart of what we do
Developing and extending our research and innovation work
Maximising the use of digital technology
Meeting or exceeding requirements set out in the Five Year Forward View
Delivering financial balance and organisational sustainability 
Developing our core business and entering new markets through increased partnership working
Ensuring success of our system-wide sustainability plans through active participation and leadership
Our values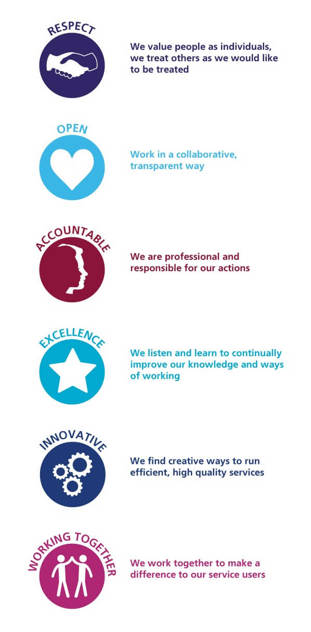 How we are regulated
We are regulated by the Care Quality Commission (CQC) which has rated us as Outstanding for caring and Good overall.
The CQC is the independent regulator of health and social care providers in England and we are proud of our record of compliancy with the national standards of care against which it regularly inspects our services.
You can read its latest reports by clicking on the CQC buttons when you view any of our services on this website.
Mission statement on reducing restrictive practices
Kent and Medway NHS and Social Care Partnership Trust is committed to providing quality care that is safe for everyone.

We believe that our patients and carers deserve to receive care and treatment that is safe, effective and is delivered by staff working in an environment free from harm.

Our commitment to reduce incidents of challenging and harmful behaviours that occur within our services, including the use of restrictive and coercive practices is highlighted in our Trust-wide strategy, policies and training programmes; all founded with a Human Rights and person-centred approach to ensure that dignity and respect are central to the care we provide.

The use of restrictive practices can create further challenging and harmful behaviours, which have significant and diverse outcomes for all involved. A reduction in these practices will enhance patient experience, recovery and engagement with services, carers and families. This will also provide a safe and conducive place for our staff to work.

We will achieve this by continuing to embed evidence-based preventative initiatives and strategies, work collaboratively with service users, carers and families and other stakeholders; learn from incidents and further develop a culture of recovery through open and therapeutic relationships.
Celebrating CQC success
We are delighted to share with you two films made by teams who wanted to share their CQC experience.