Carers, families and friends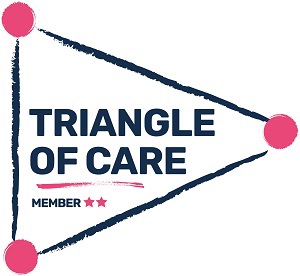 We believe family, friends and carers are a valuable part of the recovery journey for those individuals who use our service.
Our teams provide high quality care and treatment that is evidence-based and follows best practice, trust policies and procedures.
We ask you work alongside us in promoting a recovery focused service.
KMPT is a two-star member of the Triangle of Care. As a member of the Triangle of Care, KMPT has committed to changing the culture of its organisation to one that is carer inclusive and supportive.
A carer is anyone, including children and adults who looks after a family member, partner or friend who needs help because of their illness, frailty, disability, a mental health problem or an addiction and cannot cope without their support. The care they give is unpaid.
Each of our teams throughout our serviced have an identified member of staff assigned as Carer Champion. You can find the contact details of your carer champion by visiting the relevant service page
The trust has also introduced carer support leads in the older adult inpatient service as well as on some adult acute inpatient sites. The leads support the services with carer engagement and are another point of contact for families, friends and carers. 
Carer support leads
Vanessa Waller
Older Persons Care Group - Inpatient Units
Bay Tree House Hermitage Lane, Maidstone Kent. ME16 9PH
Direct Telephone number 07721 044829
Direct email for Carers – kmpt.carersupportforolderadults@nhs.net
Kathryn Hayes
Adult Acute Inpatient – Littlebrook Hospital
Littlebrook Hospital, Bow Arrow Lane, Dartford, Kent DA2 6PB
Direct Telephone number: 07787202113
Direct email for Carers – kmpt.carersupport@nhs.net
We also have a Family Engagement and Liaison Lead for our forensic services.