Roles
Covid-19
We've had a fantastic response to our call for new volunteers to support our KMPT service users
We are working hard to match volunteers with tasks, but due to the incredible interest, it will take some time for us to process applications. That means we can't take on more new volunteers at present – but please keep checking our website for when we re-open applications. In the meantime, please look at other local charity pages to find other opportunities that may be available.
Below you can see a list of our current volunteer roles. If you would like more information about a specific role, or would like to register, please complete the form at the bottom of this page.
Highlighted role - IT buddy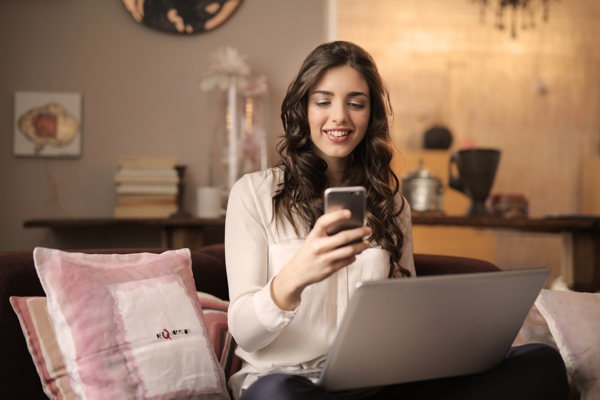 The Covid 19 pandemic has been particularly stressful for many of our service users.
For those who have to stay at home it can be a very isolating experience being away from family and friends and this can increase stress and anxiety.
We need are people who have good IT knowledge to volunteer from home, using your phone to call service users to help them install, run, and use video-chat software such as Zoom, Lifesize, etc.
This will help them keep contact with family and friends and improve their lives so they feel less isolated.
Arts and crafts volunteer
Art and crafts sessions are of great benefit to our patients and we need someone who can help the occupational therapy team in preparing for these classes. The sessions could be anything - from drawing, painting, sketching and pottery sessions (we have our own kiln!).
Baking volunteer (Medway)
Our occupational therapy team run simple baking sessions for our patients and need help from someone who can assist with preparing for the session and to help patients during the session.
Befrienders
A befriender is someone who will regularly visit patients and builds a rapport with them, engaging in conversation and accompanying them on walks around the hospital grounds.
Book trolley volunteer
This will be once a week and you will be expected to ensure the trolley is stocked with a good variety of books, keep a record of what books are where, engage with patients to encourage them to read and to feedback to us if patients have any specific reading requirements.
You need to be a friendly person, chatty and encouraging. You don't need any great literary knowledge, just a willingness to help people with a friendly smile.
Café helper
You will be helping to support the café manager, preparing snacks and light lunches, drinks, taking orders from customers and helping keep the area clean.
Chaplaincy helpers
To support the trust's chaplains in their work supporting patients and staff both spiritually and pastorally, specifically to help the smooth running of the Big Debate Groups and potentially other chaplaincy-led groups.
Committee members/trustees for our Friends charity
The Friends is a charity that helps patients and families who have mental health problems - both in hospital and in the community. They need committee members who can help govern the group's activities. This could be fundraising, administrative tasks, finance and many other activities the Friends take part in.
Complementary therapy volunteer
We are looking for volunteers who would be interested in visiting our wards and patients to offer various complementary therapy experiences. These could include (but are not limited to) touch therapy/hand massage, reiki, reflexology, aromatherapy and homeopathy.
You will need to have relevant qualifications (or working towards them) or a provable career record in suitable field.
Discussion support volunteer (Medway only)
Our Chaplaincy team seeks to help our service users, of all faiths. As part of this we run a Mental Health Fellowship, with a small group of service and ex-service users where we informally discuss the big questions of life through a faith and mental health lens.
Could you come and support the service users and chaplain as we debate these topics? You will be required to welcome people to the group and encourage members as necessary.
Drivers
We require owner-drivers to pick up patients and take them to various locations. Journeys can be long or short.
Gardeners
Develop your green fingers and help maintain our gardens. You will help with pruning, weeding, planting, keeping borders trim, watering and taking pride in your patch!
Gardening experience would be ideal, as is a caring attitude, ability to listen and someone who likes a chat. We will have to undertake an enhanced DBS check. In return we offer full induction, training and support.
Hospital radio volunteer
Our hospital in Canterbury is looking for volunteers to help run a radio show for our patients. You will be working across our hospital and the studios at Canterbury Christ Church university.
Your role will be primarily one of a producer – planning programmes, arranging for guests, putting together playlists, creating content and managing social media input.
You will also have to ensure that the programme complies with Ofcom's broadcasting laws (training will be given).
Meet and greet
The main role of a Meet & Greet volunteer is to make people welcome and comfortable when they arrive. You could be helping staff, patients, families, or other visitors. Tasks might include keeping information leaflets up to date, issuing parking permits, ensuring guests sign the fire safety book, and doing whatever it takes to ensure our guests have a positive experience.
Each day will be different, and you are guaranteed a varied, fun, and enjoyable experience helping our visitors.
You will gain valuable experience in customer service, continued support, and lots of training opportunities.
Music group
The sessions are about using music to stimulate conversation with patients - perhaps talking about their favourite pieces of music or using the CDs to prompt discussion on images on the cover or individual songs. What we need are people who have a passion for music - any music - and would like to share that love with our patients by volunteering alongside the therapy team.
Music and movement volunteer (Medway)
You will help patients with simple dance/activity to music. Some of our patients are elderly so this will not be strenuous and you will need no real dance skills. It is more like movement and physical activity.
Recovery and Wellbeing College
In this role, you will provide classroom assistance for any student needing one-to-one support with their learning, which may be helping someone take notes or assisting with any written exercises.
Singing and choir volunteer
We need someone to help form and lead a choir! This choir will be made up of patients who have mental ill health and are part of our forensic mental health unit.
Therapy group co-facilitator
In this role you will assist staff in running the group therapy sessions. It would be ideal if you have some experience of mental health. Your role will include working with staff to identify risks, help service users to maintain appropriate codes of conduct and give time to enable service users to use peer support services.
Virtual tour guide volunteer (Maidstone and Medway)
We need volunteers who will work alongside our occupational therapy team to give a talk to our patients about different places.
It could be near or far. It could be anywhere. It needs to be somewhere you've been and you are interested in. Our occupational therapy team will produce a slide show for you (with your advice on suitable images) and then you will talk to our patients about places and the images.
Pets as Therapy volunteer
Many of our patients find that being around animals can be a calming and therapeutic experience. We would like to hear from people whose pets are registered with Pets As Therapy, or similar organisation, so you can come on to one of our wards so that patients get the chance to interact with your dog. Other animals will be considered as long as it is registered with an organisation such as Pets As Therapy. We will need to see documentation to ensure your animal is registered.
Tai Chi or Yoga Volunteer
You will be volunteering alongside our occupational therapy team at our forensic mental health unit in Maidstone.
Our patients find such activities to be of great benefit and help them relax.
Sessions last about an hour and generally take place in the afternoons, but times and days can be adapted to suit you.
You will need to have a relevant qualification or proven track record in this activity.
Walking group volunteer
Our Occupational Therapy team run a walking group for our patients in Maidstone. Volunteers are required to help run these groups. You will be volunteering alongside staff and will be there to talk to patients and engage with them in friendly chat and to help them enjoy the experience.
The walks are gentle but can be on trackways. Just as important as the exercise is for patients to enjoy being in the countryside and to engage with the sights, sounds, and smells. Breaks are taken as necessary.
Patients are residents on our acute wards and can sometimes display challenging symptoms, so you will need to be patient, caring, understanding, and non-judgmental.
Art group co-facilitator (Dartford)
You will be helping staff prepare for the session, co-facilitating the group with the art psychotherapist, and help clear up afterwards.
You will not be on your own with patients and there will always be staff present who will be responsible for the activity. This role would suit an individual who is looking to gain experience in psychotherapy, and who also has a keen interest in art.
Mother and baby yoga volunteer (Dartford)
The Mother and Baby Unit at our Dartford site are looking for a dedicated volunteer to assist staff the with planning and facilitating of a mother and baby yoga class, and to ensure that patients benefit from their experience within the Mother and Baby Unit.
If you have a yoga qualification, along with relevant experience, and would like to make a difference to our patients and their babies lives, we would love to hear from you!
Patient experience volunteer (Sittingbourne)
An essential part of our service is to ensure that we give our service users the best treatment we can.
So what we are looking for is someone who can join our Community Mental Health team in Sittingbourne. You will be based in the reception area. The role will entail welcoming patients to the team and when they leave asking them to complete one of our service satisfaction forms. You will then collate and copy them and hand them to the reception team. Once a month you will meet with the service lead and together will go over the responses to identify any issues that need to be dealt with.
You will need to be caring, patient, non-judgemental, and sympathetic to those with a mental health condition.
Social group volunteer
Do you like socialising with people, chatting, drinking cups of tea and coffee?
Then you'll like this!
You will volunteer alongside our occupational therapy team to provide a 'social club' for our patients. It will be focused around creating an informal and relaxed 'coffee shop' feel.
You will be chatting to patients, listening to music, reading newspapers, playing games etc. 
We are a mental health trust and you will need to be comfortable and relaxed in that environment.
Breakfast group volunteer
For this role you will be working on the wards helping staff and patients to prepare breakfast.
Patients often lose their independent living skills quite quickly and this group helps people prepare their own breakfast.
You will be working with patients who have a mental health condition and so you will need to be sensitive, caring, and patient.
Because you will be working with vulnerable people we will have to do an Enhanced DBS check.
In return we offer induction, training and support.
Simple dishes volunteer
The purpose of this group is to help patients develop independent living skills. You will support staff to facilitate small groups with preparing simple meals. You must have basic cooking skills and enjoy food.
What's most important is that you enjoy being with other people, like having a chat, and are a friendly and caring person.
You will be volunteering in a mental health environment and need to be comfortable and happy with that.
Liaison and Diversion Support Volunteer
The Criminal Justice Liaison and Diversion Service (CJLDS) is seeking volunteers to support clients and their carers who are referred to the team.
You will work alongside one of our liaison and diversion practitioners in the community, providing support and advice to clients to address any unmet needs. You will maintain communications with clients and other key people involved in their care, and help them to take positive steps in their lives during a difficult period. You will be supporting clients over the age of 10, who may be experiencing a number of different vulnerabilities such as; mental health, drug or alcohol misuse, homelessness, etc.
You will have an interest in mental health and social care and it would be a great benefit if you have had personal experience of the Criminal Justice System and/or vulnerability such as those listed above.
In return we offer full training, support, and all travel expenses will be paid.
Life Story Volunteer
You will be volunteering alongside our Occupational Therapy teams helping our older patients explore and remember their lives.
The patients will all have dementia to various degrees.
The purpose of the Life Story is to create a book that is full of words and images from the person's life, to aid their memory and help them recall the story of their lives.
You will be expected to offer a regular (once a week) commitment for at least 6 months.
Activity volunteer
We are looking for volunteers to bring their enthusiasm for their hobby to our patients.

It could be anything – you may enjoy a game of football, jogging, yoga, Zumba, watching birds or looking at the stars. You may play an instrument, like painting or sketching, creative writing, flower arranging or anything else!