Building Cloisters 2 Oysters team 2019
Date added: 22 May 2018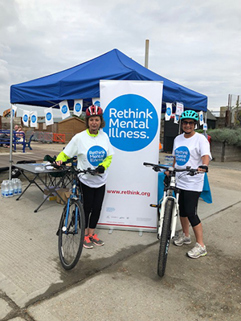 In 2018, Chief Executive Helen Greatorex and Director of Workforce and Communications Sandra Goatley, joined the Cloisters to Oysters challenge and help the 60 strong cyclist team to raise more than £4,000 for Rethink Mental Illness.
They both enjoyed being part of such an important event which is organised by Canterbury and Coastal Rethink Carers Support Group.
At the finish line, Helen promised to ensure KMPT is part of the 2019 event on Sunday 12 May. So far we have more than 60 staff and their families taking part, but we want to reach 100!
If you needed a reason to keep your New Year fitness goals going, this is it. Interested? Complete the form below to join the KMPT team to cycle, run or walk the route.
Not sure? There is more than one way to be part of the day. How about you join the team as a marshal and help keep #C2OteamKMPT safe. Speak with Sarah who will be able to give you more information.
Sign up and be a part of this year's #KMPTProud team and help raise money for Rethink Mental Illness.
Error loading Partial View script (file: ~/Views/MacroPartials/InsertUmbracoFormWithTheme.cshtml)