Celebrating the superpower of Clinical Trials
Date added: 20 May 2023
Last updated: 20 May 2023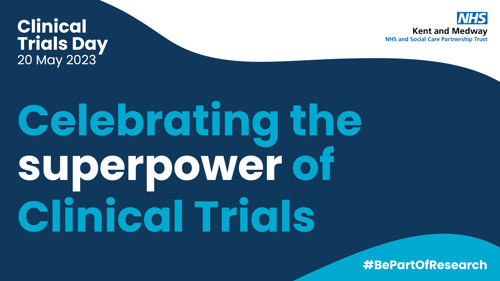 It's International Clinical Trials Day on May 20 – a day that is celebrated globally to recognise what is believed to be the first time such a trial took place in 1747.
Clinical trials are research studies that look at new ways to improve health and avoid, detect, or treat diseases and conditions. They are extremely important to help us understand and treat mental illnesses safely and effectively. Without clinical trials, many of the medical treatments and cures we have today wouldn't exist.
In 2020 the world was reminded of just how crucial clinical trials are, with the development of successful COVID-19 vaccines within a few months of the pandemic starting. More than 24,000 participants enrolled in a trial to test the vaccine developed just by AstraZeneca, alongside the University of Oxford.  And within just 5 months of it being approved, around 17 million people in the UK and EU had received a dose of this life-saving vaccine. Without that enormous collaborative effort to develop this, and other, new vaccines who knows where we would be today?
So, this International Clinical Trials Day the we want to remind people of just how important these trials are, encourage you to get involved and debunk some of the myths that might put off volunteers. We must not forget the superpower they offer.
MYTH 1: Clinical Trials are not safe. They use untested methods and medicines.
Trials do not happen without oversight. Before a clinical trial can begin, the Medicines and Healthcare Products Regulatory Agency (MHRA) needs to review and authorise it. They also inspect sites where trials take place.
Clinical trials are also split into 4 steps or phases. The first phase involves only a very small number of people, to whom any risks are clearly explained, and then as more is learnt about the medicine and people's reaction to it, the numbers of people involved are gradually expanded.
Importantly you will always be told of the risks before taking a decision to get involved, and can stop at any time if you want to.
Here at KMPT we are mainly involved in Phase 3 and 4 trials, at which point we already know quite a lot about the drug or treatment being tested. This means any risks are significantly reduced. Every trial also has a Principal Investigator, who is a doctor that works in KMPT. They take responsibility for the safety of all patients on the trial.
MYTH 2: I am too old to take part in a clinical trial. They only need young, healthy participants.
Lots of different types of people take part in clinical trials. Some are healthy, while others may have illnesses.
At KMPT we run clinical trials on lots of mental health conditions. We involve people with lots of different mental health conditions from depression and anxiety to Dementia. Our participants range from 18 years and upwards. We've even had participants in their 90s!
MYTH 3: I can't afford to take part in a clinical trial.
People who take part in clinical trials at KMPT are able to claim the money back for any expenses they might pay. This might be for travelling to the research centre by public transport, miles travelled in your personal car or even covering a taxi fare. We would not want any of our participants to be out of pocket.
MYTH 4: If I join a clinical trial I won't get the same standard of care that I get with my doctor
KMPT's Research and Innovation team pride themselves on the time and care they give to making sure that every participant is happy and fully understands what will happen.
Anyone that takes part in a clinical trial receives a very high level of care. They can talk to the research staff and discuss any concern with their doctor. People taking part in a trial because they are unwell generally have better clinical outcomes, as they have a higher quality of care throughout the trial.
MYTH 5: Clinical trials are scary. They are run by scientists in white coats in laboratories.
The KMPT Research and Innovation team are anything but scary. Our friendly team are here to support participants every step of the way and our Clinical Research Practitioners and Clinical Research Nurses are highly skilled in carrying out the different elements of a trial in a supportive and reassuring manner.
How do I get involved?
We are currently undertaking around 20 studies, including trials of new medication, research into older adults and dementia, bi-polar disorders, the use of anti-psychotics, learning disabilities and early diagnosis of psychosis. Many of these are still recruiting participants, and we always need a database of volunteers to support new studies or trials.
If want to get involved or want to keep up to date with all the latest information about what we're doing at KMPT, join our Research Community here