Celebrating Volunteers' Week
Date added: 31 May 2022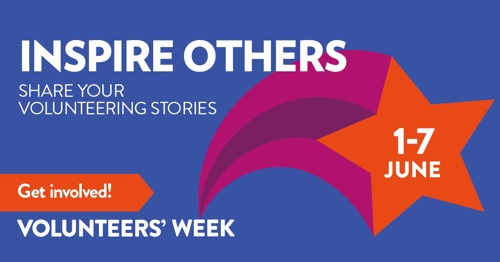 This week we are joining together to celebrate Volunteers' Week and recognise the fabulous work of volunteers who give their valuable time in support of great causes nationally and globally each year.
Today, we especially wanted to say a very special 'KMPT thank you' to the 200 brilliant volunteers at KMPT who use their skills and lived experience every day to help support and shape mental health services. We couldn't deliver our services across Kent and Medway without you, so thank you for everything you do!   
As part of Volunteers' Week, we also wanted to share with you a few of the many opportunities available to people who may be thinking about becoming a KMPT volunteer and joining us – we'd love to have you.
Whether you are interested in gardening, chatting to people or driving; volunteering provides you with the perfect chance to get out, meet new people and make a difference to the lives of the people within our community.
Take a look at some of the roles we are recruiting for…
Volunteer driver
Do you own a car and love chatting to people? Why not become a volunteer driver?
We're looking for owner-drivers who would be willing to drive our patients, and their families, to appointments, home visits and other important business all across the county. And the choice is yours; you could do small, local journeys in your area, or you could travel anywhere in the county.
We try to schedule regular journeys for our drivers, so you get to know the people you will be transporting. That's good for our patients and it's good for our volunteer drivers. In return, we pay all of your mileage costs.
Volunteer gardeners
Do you enjoy being outdoors and is gardening one of your passions? Why not become a volunteer gardener?
We're looking for volunteers to help us maintain our many gardens and green sites across the county. Whether you're an experienced gardener or you're a newcomer looking to gain some experience; everyone's welcome. You can either volunteer alongside our occupational therapy teams on garden activities with patients, or as part of a group of garden volunteers working alone.
You could be helping with digging and weeding, planning what fruit and vegetables to grow for the next season, helping patients see the wonder of growing things, planting bulbs and seeds or helping with the general upkeep.
Our gardens bring peace and contentment to patients and staff. They're a relaxing space that everyone can enjoy. Whether it's at our magical walled cottage-garden in Canterbury, our newly-established Garden of Hope in Dartford, the Willow Gardens in Maidstone, or at one of our smaller gardens somewhere else in the county; you'll always be very welcome to join us.
Want to volunteer now?
There are so many volunteering opportunities available right now and you could make a real difference to the lives of our patients.
Take a look at the roles available and register you're interest via our volunteering page
You can also call our Voluntary Services team on 01227 812137 for further details about any of the roles on offer. We look forward to hearing from you!