Dr Adrian Richardson appointed as Director of Partnerships and Transformation at Kent and Medway NHS and Social Care Partnership Trust (KMPT)
Date added: 02 November 2022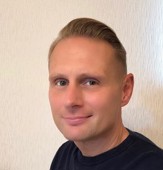 We are pleased to announce that Dr Adrian Richardson has been appointed to the role of Director of Partnerships and Transformation.
Adrian will join the Trust early next year, from his current role as Director of Continuous Improvement for Frimley Health NHS Foundation Trust.
Adrian is delighted to be joining the organisation and said: "I am really looking forward to joining KMPT, building on my relationships with its partners and leading the significant transformation agenda that is designed to radically improve our offer to those who use our services".
Adrian brings with him a wealth of experience and knowledge of leading transformation through working in partnership.
Chief Executive, Helen Greatorex, said: "I am delighted that we will be welcoming Adrian in January 2023.
"We were looking in particular for someone who was very experienced in delivering transformation at pace. Adrian's track record across a range of systems including Western Hospitals and Frimley demonstrates his commitment to consistently improving the quality of services and we look forward to seeing him driving the agenda for mental health, learning disability and autism."