Focusing on improving Learning Disability and Autism services across the system
Date added: 01 April 2021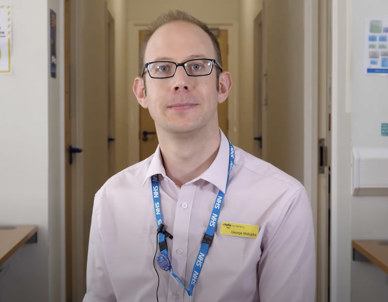 Across Kent and Medway there has been a need for many years to transform the services and care for people who have a learning disability, and autistic people . System-wide it is acknowledged that further investment is needed to provide the level of care and support, access to specialist services and support groups required as well as putting a fit-for-purpose system in place to ensue that the voices of those most vulnerable are clearly heard.  
In January 2020, the Trust made the decision to focus on how they could improve its own services and the support they offered to people with a learning disability or autistic people by recruiting a lead person for learning disability and autism. George Matuska who is in his second year now with KMPT, is excited about the work now taking shape and how he is working system-wide to ensure that we as a collective are supporting the people within its care, as well as the clarity on how as a care system we are meeting the diverse range of people's needs.
George said: "Since my appointment, I have been involved in a whole host of conversations across the length and breadth of Kent and Medway's health and care system. More importantly, I have spoken with people who have either accessed support previously, or who are still accessing support as well as those who may need additional help from us in the future."
"What has struck me is the broad spectrum of people's experience across the system currently based on their care. It really has been a very mixed picture, with some people finding the level of support they have received being just what they needed when they needed it, through to talk of large gaps in services, resulting in people having to fight for support that many of us just take for granted."
"KMPT's vision is to provide 'brilliant care through brilliant people' and that, combined with the integrated care system's vision, 'to help local people live their best life,' has given us clear scope for the Trust to do even more and support itself and the system so we can work in union to address the health inequalities that some people face."
The Trust has been working hard to set up an internal Board called the Transforming Neurodiversity Support (TNS) Programme Board which aims to empower people with a learning disability, autistic people and there families to become leaders and help guide and shape the direction of services.
George said: "Earlier this year, we started the journey of setting up the programme board and our ambition for it was to provide leadership to projects designed to change the way the system and organisation supports people with learning disabilities and autistic people."
"Starting this programme was crucial as people with learning disability and autistic people often are unable to have their voice heard, and this Board is helping to allow a platform for people to speak up – to hear their views in order to transform available services to meet their needs."
"We knew from the start that we wanted experts by experience to become equal members of the Board and that they would be able to hold the whole organisation to account."
"We organised virtual public engagement events where experts attended to offer their views on an official programme name and vision. When organising these sessions, we gave particular consideration to support people's communication needs because the sessions were being delivered virtually due to COVID-19. In doing this, we approached several charities, the Trust's patient experience group, and also a leading expert in the field of engagement who happens to have a learning disability themselves.
"Four sessions were held in total; one of which was an email event for people who were not comfortable offering their views on camera. During each session, we described our ambition of setting up a Programme Board and many experts expressed their interest in becoming a Board member.
"Throughout this journey, we also transformed the way we created our documents; we made it the norm to send every single letter, timetable and meeting minutes in high contrast and easy read.
We learnt from George that unfortunately, more often than not, these types of documents are not widely available to people with learning disabilities and autistic people, meaning they are often excluded from conversations. These need to be made the standard in all meetings, not just learning disability and autism specific ones.
Setting up the programme board is just one step in the direction of including people with learning disabilities and autistic people in the conversation, but we as a system still have a long way to go.
The aim of the Board is to provide expert advice for the development of a system wide neuro developmental pathway for adult with autism and ADHD as well as Trust work towards offering some of the most reasonably adjusted services of any mental health and learning disability trust in the country.
George continues: "We also are supporting KMPT to take a critical look at the services it is currently offering to people with a learning disability and autistic people to make sure we are continuing to be as effective as possible."
It is important to remember that KMPT is only one small part of a much larger system and to offer the best outcomes for people, the whole system needs to work together. One way this has already started is clear to see by the Kent and Medway integrated care system (ICS) prioritising the needs of people with a learning disability and autistic people.
Georgie said; "The Kent and Medway ICS has listened to the current challenges faced by people and their families and are looking to find ways to improve this. As a starting point they have agreed that alongside supporting people's current needs the whole system needs to agree on medium and long-term plan together. They have agreed to the development of Kent and Medway's very first all age autism and learning disability system strategy which will mark the start of things to come - a real step forward."
George is very clear that the central focus and main aspiration in anything we do should be for people to be able to live their best life, whoever they are.
 "Everything we at KMPT are now doing around learning disability and autism is founded on our initial 'non-negotiables' or principles which are that:
Any work undertaken is co-produced with experts and experts by experience equally and those experts would be supported to be leaders and drivers for change
No assumptions will be made about outcomes before we start and evidence-based processes will be followed
Any projects are to be carried out with the workforce and experts equally with the aim to create a sustainable outcome which will become the new normal or accepted way of doing things.
So what next as we look to the future?
George is clear on this too: "We have identified an overarching need, set out our non-negotiables and are already working on how we implement this vision within the Trust and wider system to help support the changes people have told us are much-needed.
"I am looking forward to what we can really achieve and excited to be part of this very positive change – watch this space!"