International Nurses' Day 2022
Date added: 12 May 2022
Today is International Nurses' Day so we're celebrating our brilliant nurses and the brilliant care they deliver. Thank you to all our nurses for everything you do.
To mark this special day we'll be introducing a few of our nurses so you can get to know them, learn more about their careers and what they love about being a nurse. We hope you enjoy meeting them. 
Let's hear from Karen...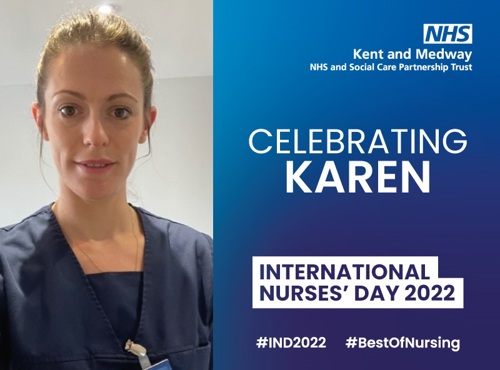 "I have practiced as a mental health nurse at KMPT for 14-years since I qualified in 2008 from Canterbury Christchurch University, covering roles including staff nurse, community psychiatric nurse, team leader and non-medical prescriber.
"Throughout my career I have met some wonderful people with varied life experiences and interests, each with a different and engaging story to tell. Being a nurse is extremely meaningful to me. I find supporting people and their family or loved ones through periods of unrest and illness, through to recovery extremely rewarding.
"Nurses can be a light at the end of the tunnel. The support you thought was unreachable, an understanding ear or the unconditional, positivity needed to help lift someone's grey cloud.
"Being a nurse is an opportunity and a role that I take great pride in. Working for KMPT has allowed me to experience great team work as well as supporting the improvement of mental health services for those living in Kent and Medway; happy International Nurses' Day to everyone living with, working with, and working as a nurse! Thank you all for all you do."
Meet Lynn…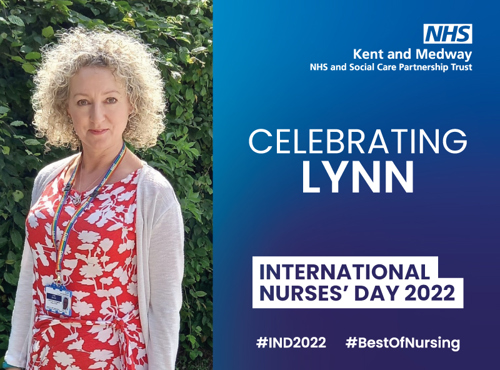 "In my career as a registered mental health nurse (RMN) I have worked for other Trusts, but when I joined KMPT all those years ago, it was like I had finally found my home - I've been here ever since. I support the KMPT values of respect, open, accountable, excellence, innovative and working together and feel supported to uphold them.
"I have been encouraged to continue my professional development and through this support, I have attained an MSc in Health and Wellbeing. This qualification has enhanced my existing RMN knowledge, which has allowed me to utilise these skills within my current role as a practice placement facilitator; working with pre-registration student nurses and supporting colleagues to support student nurses.
"It has given me a chance to pass on my 31 years of nursing experience to others. A big thank you to KMPT for investing in me and nurses so they can keep delivering brilliant care."
Say hi to Michelle…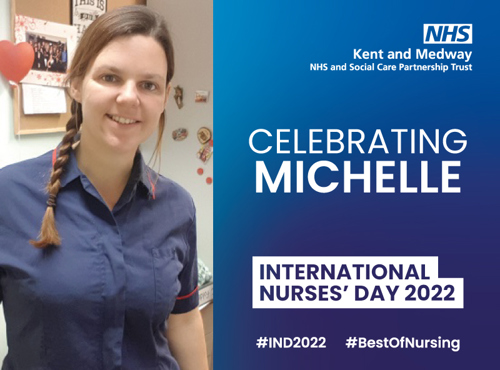 "I started my career in KMPT as a healthcare worker and the trust supported me to complete my training and further my career. To this day, I remain in close contact with colleagues who taught me those basic nursing care skills and am honoured to still work alongside some of them in my current role - they are such role models.
"I am now a ward manager, managing a team I love working with. They are caring, compassionate, diverse and bring such individual uniqueness that make coming to work fun and enjoyable.
"It is a privilege to care for our patients when they are at their most vulnerable; making just the smallest difference to their life makes leaving my family at home and coming to work every day worthwhile. Nursing is an extremely rewarding job – even if it is tough at times. And, without the support of KMPT, I wouldn't be able to do a job I love."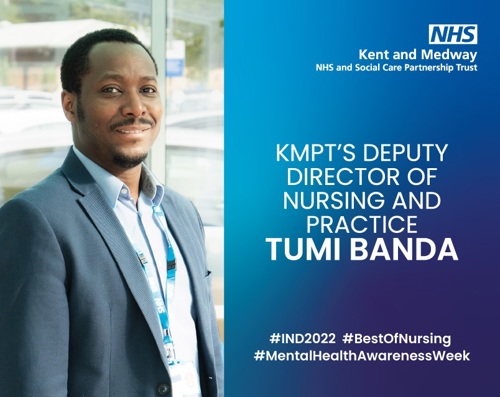 Tumi Banda, our Deputy Director of Nursing and Practice, has been a nurse for over 20 years and wanted to share a few words.
"I am incredibly proud of the services we provide and the difference our nurses make to the lives of people every day.
"The past couple of years have challenged us, but we have worked together to make sure that our patients and their loved ones receive the very best care we could give each day, no matter what challenges we faced. When I think of how well all of the nurses across the NHS have responded, I feel an enormous sense of pride.
"Thank you for your dedication, commitment and professionalism."
Hear from Andy Cruickshank, our Chief Nurse…
A huge 'thank you' to all of our nursing staff at KMPT who do a fantastic job each and every day. We're #KMPTProud to be providing brilliant care through brilliant people.
Helen Greatorex, our Chief Executive