KMPT pet therapy dog makes Unsung Hero Award finals
Date added: 11 December 2017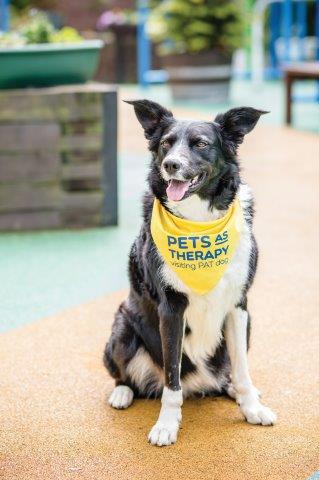 A pet therapy dog at the Kent and Medway NHS and Social Care Partnership Trust (KMPT) has been shortlisted for the national 'Unsung Hero' Awards which reward and celebrate non-clinical NHS staff and volunteers. The Awards are organised by GoToJobBoard, a specialist recruitment company.
Molly, an eight year old border collie, is one of only three finalists in the Special Mention category and has been volunteering for three years at the Frank Lloyd Unit in Sittingbourne which supports older people with mental health problems and specialises in dementia.
Molly's owner is Sarah Wale, a team leader on the 'Hearts Delight' ward at the Frank Lloyd Unit. The duo work together on late shifts from 2pm to 9pm and Molly takes part in staff handovers.
Sarah said:
"I'm delighted that Molly's contribution has been recognized by the Unsung Hero Awards. It is such a delight to see residents' reactions when they see Molly and the lift in their mood is incredible. One of the wonderful things about Molly is that you don't need to talk and many of our residents get real joy from just brushing or stroking her.
"Molly is a real character and gets involved with our parties at Christmas when she wears her reindeer antlers. We're lucky to have her but equally Molly really enjoys her time with our residents and staff. Frank Lloyd is her second home!"
Dementia often causes difficulties with communication, loss of engagement and isolation. Therapy dogs provide affection and comfort to people in settings such as care homes and help reduce feelings of isolation.
Molly and Sarah will attend the awards event on 23 February 2018 in Manchester which will be opened by Andy Burnham, Mayor of Greater Manchester. The Special Mention category winner will be decided by guests attending the event.