Local branch of Nando's donates sponsorship money to Friends this Local Charities Day
Date added: 15 December 2017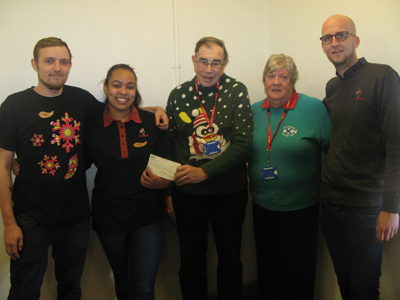 A local branch of Nando's in South Aylesford, near Maidstone has generously donated to the Friends of Mental Health – West and Medway this Local Charities Day (15 December), which celebrates the fantastic work of small charities and community groups.
General Manager, Adam Jowitt, who lives in the local area, wanted to help give something back to the local community and reached out to the trust who put him in touch with the Friends group. The local restaurant chain helped to raise the funds through the charities collection boxes and the Friends have now been presented with a cheque for £539.72.
Adam said: "Mental health problems run in my family. My nan worked in mental health as a ward sister and now experiences dementia herself. I felt passionate about being able to help."
Funds raised have been used to help those with mental health needs and their families; this includes paying for education classes or travel, funding art exhibitions and music therapy, giving practical support to people in the community, including those recently discharged from hospital, and providing support and amenities to inpatients. The Friends work collaboratively with other agencies to provide holistic support to people with mental health needs, such as MIND, Umbrellas, and Rethink.
John Sweetman, President said: "We are a small charity, but we do a lot of work to help people with mental health problems and are deeply grateful for the money received."
The charity does not have specific plans for the money as yet.
The collection boxes will remain in the restaurant until January 2018 to help collect more funds in the run up to Christmas and new year.
The Friends of Mental Health West Kent and Medway cover West Kent including Maidstone, Medway, Dartford, Tonbridge, Tunbridge Wells and Sevenoaks.
The Friends for Mental Health East Kent cover East Kent, from Sittingbourne to Thanet and Romney Marsh.
If you would like to give something back this Local Charities Day and you want to help The Friends, you can:
become a member of the Friends.
fundraise for us! Please bear us in mind if you're running marathons, holding cake sales or any other fundraising activities.
make a donation.
leave a bequest in your will.
join our Committee, which meets monthly  in Maidstone for West Kent and Medway and  Canterbury for East Kent).
become a paid up member without volunteering.
Please contact: 
Friends of Mental Health West Kent and Medway on 01622 723215.
Friends for Mental Health East Kent on 01227 812042.
For more information about Local Charities Day or details on how to get involved visit: https://dcmsblog.uk/wp-content/uploads/2017/11/LCD-Toolkit-2.pdf