New Maternal Mental Health Services supporting hundreds of expectant, new or bereaved mothers to get mental health support
Date added: 06 April 2021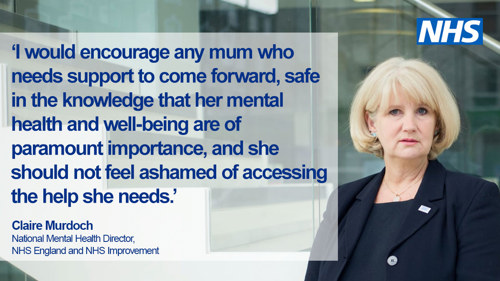 'Birth trauma is very real, often overlooked, and has long term consequences on so many areas of life.' - Maternal Mental Health service user
Around one in four women experience mental health problems in pregnancy and during the 24 months after giving birth. The NHS is committed to provide them with high-quality perinatal mental health care and has recently announced the roll-out of 26 new dedicated Maternal Mental Health Services combining maternity, reproductive health and psychological therapy for women experiencing mental health difficulties linked to their maternity experience.
The development of Maternal Mental Health Services sets out clear objectives to offer psychological therapies for birth trauma and baby loss. As part of the Long Term Plan, mental health services across the country will help at least 66,000 women with moderate to severe perinatal mental health difficulties to access to specialist care by 2023/24.
We are incredibly pleased that Kent and Medway were chosen as one of the early implementers, and so KMPT alongside EKHUFT have developed a new service called 'Thrive - Psychological support for birth trauma and loss.'
Thrive is an inclusive, multi-professional service, offering assessment and interventions to those experiencing moderate/severe mental health difficulties as a result of birth trauma and/or loss.
Specialist Midwives within the service provide clinical expertise and knowledge of birth loss and trauma, and support for future pregnancies.  The Specialist Clinical Psychologist provides EMDR therapy and Trauma Informed CBT.
Additionally, a person at the service with lived experience of birth loss or birth trauma is available to offer support and advice. This may include supporting someone at their assessment, sharing their experience of recovery, or linking in with support groups. Based on the need of each person, further advice and signposting can be offered.
The service started receiving referrals in in January 2021. To date it has received 16 referrals.
Charlotte, a mum involved in the design of the service, said:
"In 2018 I was pregnant with my first child. Although apprehensive about labour, I was looking forward to having the empowering experience I had heard described.
"Unfortunately, my reality was not the experience I had anticipated. A combination of events (failed epidural, forceps delivery, third degree tear, a baby that was slow to respond, and post-partum haemorrhage) along with impersonal care from some of my care providers meant that my fourth trimester was a blur, filled with guilt and anxiety over what happened.
"Due to a lack of understanding from myself and my care providers, my PTSD went 'under the radar' for a long time, but I was referred for counselling over six months later. If the THRIVE service had been available at the time of my trauma, I believe I would have been able to access treatment earlier.
"Through the charity "Make Birth Better" I became involved in one of the 'lived experience' sessions run by a member of the KMPT perinatal mental health team, where people who had experience of birth trauma were given a platform to discuss their experiences, to help build the service now known as Thrive.
"At the heart of the service are a group of care providers passionate about treating and preventing birth trauma. I hope that Thrive will continue to evolve in response to the feedback from its users, and I am honoured to be a part of such a transformative project.
"As a patient, I have often felt like healthcare services have been built as a 'tick box exercise', but I am proud to say that Thrive has been developed in collaboration with those who have suffered birth trauma and loss."
Upon referral to Thrive, all cases are triaged by the Clinical Psychologist and Specialist Midwives, determining which service is most appropriate in providing care and treatment to each person. -They work closely with local services to understand which would be most appropriate, with regular discussions taking place.
If it is determined that Thrive is the most suitable service, a risk assessment with the clinical psychologist and specialist mental health midwife will be offered; following which a plan of care will be formulated based on their needs.
Tanya-Jane Cox and Sally Densham, Specialist Mental Health Midwives at East Kent Hospitals University NHS Foundation Trust, said:
"As specialist perinatal mental health midwives, we feel privileged to have been invited to join the MMHS pilot project team. Thrive has been a wonderful opportunity to co-create a bespoke pathway which works collaboratively with existing maternity and psychological services to meet the needs of local service users.
"Within our role we speak with those who have experienced trauma, to validate their experience with compassion, provide psychoeducation, let them know that they are not alone and offer hope that effective treatment is available.
"We attend regular multi-disciplinary team meetings and client assessments, helping develop individualised care plans. Where a service user is pregnant, we liaise between the maternity service and Thrive, to co-ordinate multidisciplinary care pathways.
"As the service continues to flourish, we are looking forward to developing psychoeducation groups as a complementary intervention for some service users. We are in no doubt of the benefits that service users and their families will experience as a result of receiving specialist treatment and intervention."