Singing helps those living with dementia
Date added: 22 May 2018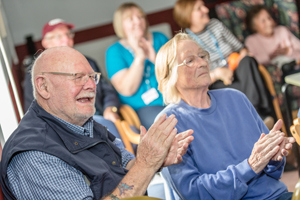 It is said that singing and laughter is the best medicine and that is certainly true at the Madeira Day Centre in New Romney where visitors and residents of a nearby care home come together to help sing away their blues.
Debbie Roy, Community Psychiatric Nurse, within KMPT's Older People Care Group or "the singing nurse", as she is fondly referred to, spent a number of years singing her heart out at a local choir group. She also knows the effects of dementia only too well after some of her close family were diagnosed. Debbie knows the benefits of singing and when she had the idea of setting up a singing group, she rallied the help of colleague Lisa Doherty before reaching out to local care homes to see if there was an interest. They made contact with Adam Hutchison, Managing Director of the Belmont Healthcare Group and Care Home Manager, Sarah Pennington who loved the idea and so the dementia singing group was born.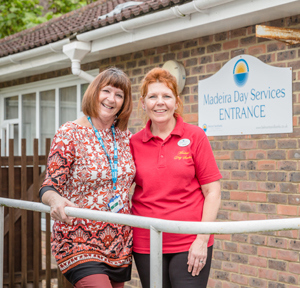 Pictured: Debbie Roy and Jan, Team Leader
Two of the group's members are 82 year-old Eddie and his loving wife Annis, who are originally from Birmingham, but moved to Kent in 1985. Eddie is a resident at the care home following his dementia diagnosis in 2014. As Annis walks up to the entrance of the home for her regular visit, Eddie is visibly thrilled to see his wife of 60 years. They sit together hand in hand, still as devoted to each other as always. The singing group adds just an extra sparkle to Annis' visits.
Pictured: Eddie and Annis 
Each week Annis looks forward to spending precious time with Eddie and enjoys nothing more than singing along to songs from their younger days when they first got married. Annis has also made very good friends with some of the carers who also share similar experiences of caring for a loved one with dementia. It's a chance for them to meet over a cup of tea and talk about how they are feeling and share advice with each other.
Annis said: "The group is a godsend. It doesn't matter how you feel, you always come away happy and smiling. It would be a big disappointment if it wasn't available."
Since coming to the care home Eddie's dementia has progressively worsened. He experiences memory loss and often becomes agitated due to his impaired mobility and has been struggling to adapt to life in a care home away from his beloved wife and the family home in Kent. The singing group has certainly helped Eddie with his dementia. You can see the smile on his face and how much he enjoys singing and spending time with his wife. The group has boosted his confidence immensely. He initiates conversations with other members of the group which has helped him to build relationships and his laughter is infectious.
Support Worker Ray Cruz heard about the group and offered to help in the shape of a musician and lead vocals. All the music is chosen by the group so they know they'll be singing songs they enjoy which will help them think about precious moments in time.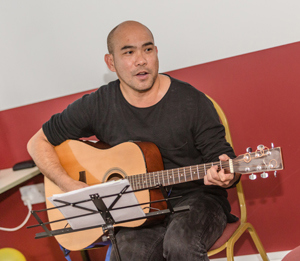 Pictured: Support Worker, Ray Cruz
Founding member Debbie said: "The group wouldn't be able to continue without the support of every person who attends, whether they are staff, volunteers, visitors or residents. They all make the session enjoyable and help each other to join in and become a real part of the activity.
"While some of the residents experience memory loss and cannot always remember the words, they are still able to get involved by clapping their hands, playing musical instruments, tapping their feet to the music and even some dancing."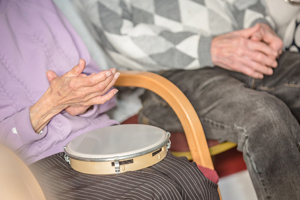 Researchers from the University of East Anglia in Norwich, England, say that singing is good for your mental health, but there's a catch — you have to sing with other people. Singing is beneficial and often mental health professionals often recommend music therapy, something that's been shown to relieve stress and help treat anxiety and depression.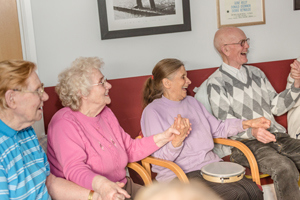 Even when many memories are hard to retrieve, music is especially easy to recall. Singing is not only an enjoyable activity, it can also provide a way for people with dementia, along with their carers, to express themselves and socialise with others in a fun and supportive group. It is one of the best therapies you can use with people that have different stages of dementia; they are able to exercise their brain by interacting and singing with others. Since the group has been running there have been many noticeable positive differences in some of the clients and their loved ones.
Debbie added: "Some of the clients were initially very quiet, but are now able to initiate conversations with other members now that their confidence has grown. You see their faces light up each week now that they feel settled and confident as a group."
Chief Executive, Helen Greatorex joined the group for a singing session along with Paula Campbell, Assistant Director of Older People Care Group and Vicky Stevens, Deputy Chief Operating Officer to see for themselves the positive impact the group is having on patients, their carers and loved ones
Helen said: "I've always enjoyed singing with people and have been privileged to witness the positive impact it has first hand over the years. The singing group has a lovely warm and welcoming atmosphere, and an emphasis on enjoying each other's company. I felt truly honoured to have been invited and of course thoroughly enjoyed it!"
Dementia Action Week is organised by the Alzheimer's society the goal of Dementia Action Week is to encourage people to take action to improve the lives of those affected by dementia, working to create a dementia-friendly UK where those with dementia do not feel excluded. 
For more information, click here.