Tackling dementia at the heart of KMPT's annual general meeting
Date added: 29 September 2023
Understanding how the latest breakthrough treatments for Alzheimer's disease can improve the lives of people in Kent and Medway living with dementia was at the heart of Kent and Medway NHS and Social Care Partnership Trust's (KMPT) annual general meeting that took place on Thursday 28 September.
At present, only 2% of people with dementia are able to gain access to the diagnostic techniques that are needed to confirm their eligibility for new treatments that can slow down the effects of the disease. Currently there are over 140 drugs being tested in clinical trials for the treatment of Alzheimer's disease. 78% of these drugs are designed try and slow down how quickly the disease progresses.
KMPT recognises that people across Kent and Medway are currently waiting longer than they should for an assessment and access to diagnostics and medication. Its specialist teams have worked hard to clear the backlog created by the Covid-19 pandemic, with the focus now on working at pace to create improved pathways and quicker access to diagnosis and care for new referrals.
KMPT Consultant Old Age Psychiatrist and Deputy Chief Medical Officer Dr Mohan Bhat said:
"Supporting those living with dementia is a key focus for the trust and over the last two years, we have undertaken a radical review of our diagnosis services. This process has fully included people affected by dementia, ensuring that we continue to use lived experience to shape our services.
"Those in need of diagnosis for dementia have a range of different needs, which means that a tailored approach is needed to address the individual risk factors and support their treatment pathway, this includes exploring physical, emotional and psychosocial avenues.
"Our new enhanced memory assessment and intervention service – which sees people assessed and diagnosed on the same day - aims to provide faster diagnosis to help unlock the door to care and treatment."
KMPT provides a range of services for people affected by dementia including memory assessment services, specialist support for carers, and support for people in crisis. To address the growing demand, the trust is rolling out a new enhanced memory assessment and intervention service, developed by Kent and Medway clinicians, to people with concerns about their memory referred by their GP or other healthcare professional.
The service is part of a wider programme of work being delivered by KMPT and the Kent and Medway Integrated Care System to improve dementia services in the county. This includes work around raising dementia awareness and pre- and post-diagnostic support to enable people with dementia to live well. The diagnosis rate across Kent and Medway is a steadily improving picture. Currently 59% of people over the age of 65 with suspected dementia have a diagnosis.
KMPT has also started a programme with GPs to train them to become dementia experts, which will see more people diagnosed in primary care settings in the future.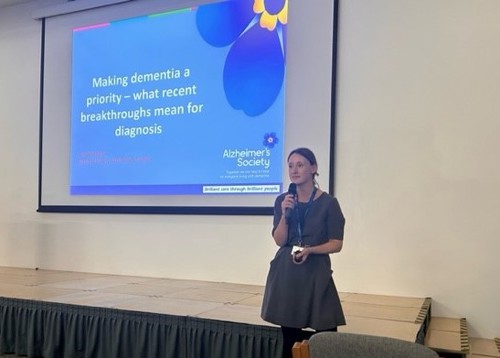 Jennifer Keen, Head of Policy at Alzheimer's Society and keynote speaker at KMPT's AGM, set out how the latest drug trials are paving the way for future research into increasingly more effective treatments that could mean the beginning of the end for Alzheimer's disease. She also highlighted the need for improvements in diagnosis for those living with dementia to enable eligibility and access to new treatments.
Commenting on the need to prioritise dementia care on both a local and national level, Jennifer said:
"There's no way to sugarcoat it – dementia devastates lives. One in three people born in the UK today will get dementia and it's the UK's biggest killer. We need to make dementia a priority and tackle it like the colossal problem it is. We need to get everyone talking about what is one of the biggest health challenges facing society.
"The government's major conditions strategy includes dementia in its plans and we need it to deliver a bold vision. We have worked with policy makers on a national and regional level to emphasise that the plans need to be ambitious, with people living with dementia given a voice throughout.
"After 20 years with no new Alzheimer's disease drugs in the UK, we now have two potential drugs, lecanemab and donanemab, in the pipeline that trials have shown slow the progression of the disease.
"There is genuine hope on the horizon when it comes to diagnosis, care and treatments for dementia so long as decision-makers grasp the nettle and treat dementia as the priority it needs to be. And for anyone affected today, we are there, providing help through the hardest and most frightening times." 
In her last address as the trust's Chief Executive, Helen Greatorex, who retires this autumn, welcomed her successor, current KMPT Deputy Chief Executive and Chief Finance and Resources Officer Sheila Stenson.  Helen shared highlights of last year's successes, including eradicating the trust's £7.6 million underlying deficit; launching four new staff chill out spaces across its three main hospital sites; delivering the highest ever recorded average physical observations compliance on inpatient wards of 80%; a Platinum Award from Kent and Medway Healthy Workplace Programme recognising the trust as a healthy place to work and that all sites in Kent and Medway now use 100% renewable energy.