Trust staff and volunteers invited to discuss Triangle of Care at Sussex Partnership
Date added: 04 December 2017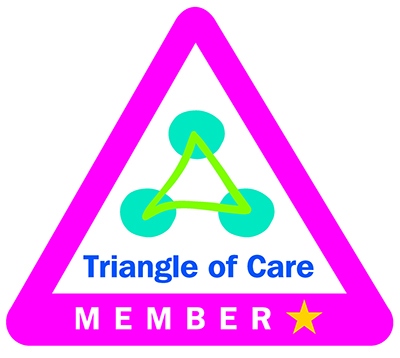 Mum, carer and volunteer Dawn and Lisa Medhurst, East Kent Matron for the Acute Care Group were invited along to the chief executive leadership event at Sussex Partnership NHS Foundation Trust by the trust's Chief Executive, Sam Allen. They were asked to give a presentation about KMPT's Triangle of Care (ToC) journey as Sussex Partnership has recently signed up to the Triangle of Care programme to improve the way they work with carers of people with mental health issues.
Triangle of Care ensures engagement of the three key groups involved in the care of a patient; the carer, the professional and the patient themselves. As a trust we are already committed to Triangle of Care and have successfully completed our first audit within our inpatient services to achieve our Triangle of Care membership accreditation. We are now hoping to achieve our second star once we have completed our community services audit.
The event, which was held in Brighton, focused on the importance of ensuring that carers are engaged with mental health services. Carers are usually the first to be aware of a developing crisis and often when professional help has not yet been established or is unavailable. They often notice subtle changes in the person for whom they care, and usually the first to notice the early warning signs of a relapse.
Lisa said: "It was really positive to be invited to share our KMPT journey with Sussex Partnership Trust. We were able to share our challenges and successes and learn more from each other's experiences to assist with greater carer and service user collaboration."
Sussex Partnership provides mental health services to adults across Sussex, and to children and young people across Sussex and Hampshire.
For more information on Triangle of Care, please visit: www.kmpt.nhs.uk/information-for-carers/triangle-of-care.htm